Thursday, March 6, 2014
..
.....Presidential pardon from Nixon saves John McCain from treason and collaboration charges according to Rolling Thunder Founder and 3 war veteran, John Holland.....
Tuesday, March 4, 2014
....
Via UB Magazine..
Amber Rose has never been one to take herself too seriously, but now the wife to rapper Wiz Khalifa is being accused of not taking her marriage seriously either.
The other day Amber posted a photo to Instagram of her hugging a fan as he grabbed her butt, and instantly folks took the comment section to call her out on allowing another man to grope her booty.
Amber is being called everything from a slut to a thot wife whatever that is. What do you think..?? Was Amber outta pocket like Ice-T's cheating slut wife Coco or is this whole matter being blown out of proportion..???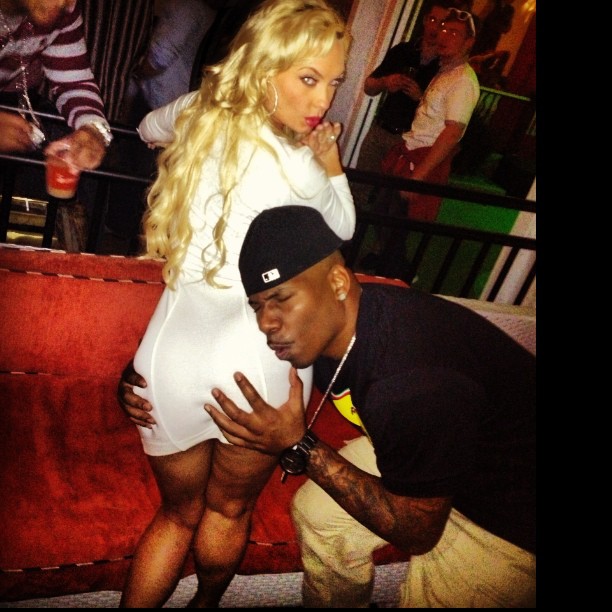 Check how harsh these twitter cats can be....
...
..
Via NewsOne reports:
Kenyan pastor Rev. Njohi has raised not only a few eyebrows but red flags with his unorthodox suggestion of having his female congregants remove their bras and underwear before coming to church, so that Christ can freely enter their bodies with his spirit, according to The Kenyan Daily Post.
Njohi, who is the pastor of the Lord's Propeller Redemption Church in Kenya, reportedly refers to undergarments as "ungodly." The bible-toting minister called together a meeting with church officials and allegedly discussed banning the under garments because people "need to be free in body and spirit in order to receive Christ."
After warning his female congregants about the evils of skivvies, the God-fearing pastor spoke of the damnation they will suffer if they dare not to go bare underneath. In true fashion, the church's female population reportedly did come to church sans their undies, the Post reports, in order to prepare for their spiritual taking...
This guy is really sick in the head...But lets remember the T.J. jakes Creflo dollar and Paula Whites are just as sick. They want you to empty out your bank account and give it to them so that you can be rich..
Or The Southern pastor who order his members to eat grass so that they could be closer to God...He didn't eat the grass but he wanted his followers to do so..and they did... Dumb and Demonize..!!!
Now these fools are crazier than any Kenyan Pastor will ever be..
Monday, March 3, 2014
This was the first time I,ve watched the Academy Awards in five years. Hollywood's blatant racism and color struck mentality has taking it toll on my sensibilities. Hollywood has got to be one the most racist places on the planet, you either see the "Noble Negro" helping the white messiah or the "Negro in a Dress" emascalining real Black men or the dark thugist black villain which all of America is programmed to Hate. So I pretty much said "Fuck Hollywood.."
But this year was the start of something different. The reemergence of "Black Hollywood" and Hollywood realizing that Black moviegoers are one of it's strongest and most loyal customers. While attendance among white moviegoers continue to shrink, African-American moviegoers remain faithful.
Movies like "The Best man Holiday' and "Think like a Man" attest to the growing power of Black moviegoers. Movies with black people in them make money and Hollywood Loves Money above all else. So now you're seeing more movies with black folks in them which goes beyond the token black guys you see in mainstream action movies.
Let's get to the point, "12 Years a Slave" was the best movie of the year...period..!!! The only movie to come close was "The Dallas Buyers Club", a uneven but emotional movie which actors Matthew McConaughey and Jared Leto great performances overcame a very clumsy script. I'll give it to Jared Leto, his performance as a transgender dying of AIDs was amazing but no way in hell did McConaughey outperform Chiwetel Ejiofor as Solomon Northup, no way.
There have been better films who have addressed the plight of gay and lesbians: "Milk" and "Philadelphia" to name a few. "The Dallas Buyers club" was not in that class. Director Steve McQueen delivered a heartbreaking American classic that will live on beyond the year 2013 because it revealed the ugly truth about the American Slave trade.
Hollywood is run by powerful gay white men and as we saw last night at the 86th Academy Awards people with power set the agenda in this country...
.................................
Blog Archive

Popular Posts
  After an eight-year relationship, Queen Latifah has split with her lover and is stepping out with her choreographer, say sources. Ebo...

 Mediatakeout.com is reporting that someone leaked a naked photo of Rapper Kanye West backsmashing a caked-out chick who's backside look...

Queen Latifah and Eboni Nichols have been an item for a while now. So it comes as no surprise to see the two love birds enjoying themselv...

 The illuminati Sexaholic Rihanna put on quite the Exhibition yesterday when she was spotted leaving her home wearing a see-thru white t...

By The Street Team October 2010 January 2011 Raven Symone explained in a recent interview that her weight loss occurred naturally af...

TMZ has confirmed that British singer Amy Winehouse was found dead in her apartment in London today. Winehouse had a long history of drug...

Former child star Raven-Symone insists she's always been comfortable in her own skin, but after losing 70lbs, she's certainly more comfortab...

By The Street Team Only in America can a woman with no discernible talent come from utter obscurity to become one of the most famous wome...

As you know by now, entertainment mogul Queen Latifah, 41 and her longtime lover, Jeanette Jenkins, have separated. According to a confide...

By The Street Team Dirk Nowizki and his Swedish born fiance were all decked out for the ESPY awards. The 32-year old Jessica Olsson who wa...